(a Titles & Air Dates Guide)

Last updated: Wed, 29 Jul 2020 -1:00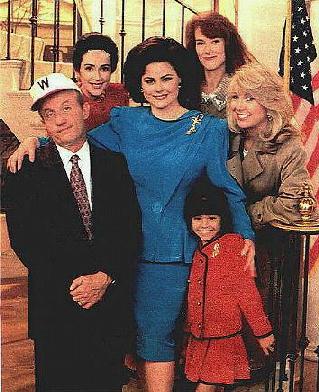 After the death of her Congressman husband, Ray, Suzanne Sugarbaker moved to Washington to fill his seat in The House of Representatives as favor for the governor. On the way, Suzanne drags her mentally retarded brother, Jim; adopted daughter, Desiree; and her maid Sapphire Jones along for the ride. Working under her were three very different women; the first, Natalie Hollingsworth, Administrative Assistant, was an uptight working woman determined to make it to the top despite the fact that she was having an affair with a imprisoned married Congressman. Second, was Sissy Emerson, Press Secretary, a former staff writer for the Washington Post whose life had gone downhill after she began drinking. And lastly her secretary, Jennifer Malone, a frail housewife, whose philandering husband, an assistant coach for the Washington Redskins, ran off with a interpretive halftime dancer. Later, working in the office was a new intern/secretary, Veda Walkman, (who replaced the Malone character), a girl just out of high school who constantly annoyed the rest of the women with her Generation X perspective. Also working in the office was Dave, an office assistant who was always seen in the background from episode 3 on, but rarely had speaking lines or was credited. Also mainly in the background was Adam, another office assistant.
From
Designing Women
, there are a few MAJOR inconsistencies:
Suzanne's brother on Women of the House was never mentioned on Designing Women. Jonathan Banks once guest-starred on Designing Women as another character.
Between the 5 year absence of Suzanne from Designing Women to Women of the House, she was married twice, and they never talk about the last husband.
In the pilot for Women of the House, Suzanne claims that her maid, Sapphire Jones, was her mammy and took care of her all of Suzanne's life.

A few episodes into Designing Women, Suzanne talks about how she can't keep help, and she got her new maid, Consuela, whom she kept for her entire run of the Designing Women.
Show Details:
Start date:
Jan 1995
End date: Sep 1995
Status: cancelled/ended
Network(s):
CBS
(
US
)
Run time: 30 min
Episodes: 13 eps
Genre(s)
: Comedy
Credits:
regulars:
Delta Burke as Representative Suzanne Sugarbaker
Teri Garr as Sissy Emerson, Press Secretary
Patricia Heaton as Natalie "Natty" Hollingsworth, Administrative Assistant
Valerie Mahaffey as Jennifer Malone [ episodes 1 - 5, and 8 (credited as Special Appearance) ]
Julie Hagerty as Jennifer Malone [ episodes 6 and 7 only ]
Lisa Rieffel as Veda Walkman [ episode 9+ ]
recurring characters:
Jonathan Banks as Jim Sugarbaker [ Credited in at least the first 7 episodes, but only appears in 3. ]
Adam Carl as Adam, Office Assistant [ episode 9+ ]
William Newman as Dave, Office Assistant [ episode 3+ ]
Brittany Parkyn as Desiree "Desi" Sugarbaker, Suzanne's adopted daughter
Episode list & details from:
TVmaze
•
TV.com
---
NOTES
Thanks to Jon Acello for providing the intial information for this guide.
---