(a Titles & Air Dates Guide)

Last updated: Thu, 10 Sep 2020 -1:00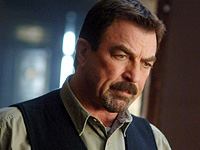 Murders are solved by a moody small-town police chief who also operates as an investigator for the state police. Based on the books by Robert B. Parker.
Show Details:
Start date:
Feb 2005
End date: Oct 2015
Status: cancelled/ended
Network(s):
CBS
(
US
) /
Hallmark
(
US
)
Run time: 120 min
Episodes: 9 eps
Genre(s)
: Crime/Mystery, Drama
Credits:
Episode list & details from:
TVmaze
•
TV.com
---
NOTES
The fourth book in the series, Stone Cold, is the one that was made into a movie first. The second book, Trouble in Paradise, has not been filmed at all. The most recent movies, Thin Ice and those following, are not based on any specific books.
---
---