(a Titles & Air Dates Guide)

Last updated: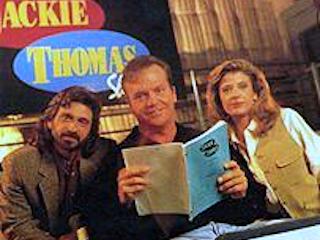 Jackie Thomas is a stand-up comic who rocketed to fame in his own show, and gained enough power to choose his own writers and thus create havoc for the network. Unfortunately, he's a terrible actor and the show isn't much better. But it's a ratings success, so Jackie is a sacred cow.
Show Details:
Start date:
Dec 1992
End date: Mar 1993
Status: cancelled/ended
Network(s):
ABC
(
US
)
Run time: 30 min
Episodes: 18 eps
Genre(s)
: Comedy
Credits:
Episode list & details from: TVmaze • TV.com
---
NOTES
One of the best of the show-within-a-show series (along with
The Larry Sanders Show
and
Buffalo Bill
) The Jackie Thomas Show is easily the most underrated series of all time. Most critics hated the show, probably because of their hatred for Tom and Roseanne Arnold. It is actually a brilliant parody of network television, the sitcom genre, and Tom and Roseanne's poke at themselves and how they are perceived.
The May 1993 issue of TCI (a.k.a. Theatre Crafts International) has a brief article about the Jackie Thomas Show set and reveals that the exterior of Jackie's dressing room is actually a stage door to the
Roseanne
set.
The May 22, 1993 issue of TV Guide has an in-depth article on the cancellation of The Jackie Thomas Show.
---