(a Titles & Air Dates Guide)

Last updated: Thu, 29 Apr 2021 -1:00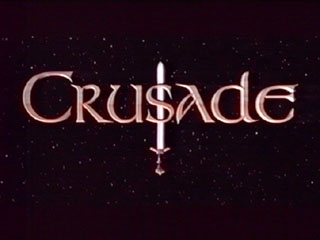 Show Details:
Start date:
Jun 1999
End date: Sep 1999
Status: cancelled/ended
Network(s):
TNT
(
US
)
Run time: 60 min
Episodes: 13 eps
Genre(s)
: (blank), Action/Adventure, Children, Crime/Mystery, Drama, Espionage, Fantasy, Horror, Miscellaneous, Music, News, Science Fiction, Sports, Talk, Travel, Western
Credits:
Episode list & details from: TVmaze • TV.com
---
NOTES
Crusade was meant to last 5 years like it's predecessor
Babylon 5 (B5)
, but was canceled after only 13 episodes were produced, due to a creative conflict between TNT and series creator J. Michael Straczynski.

At the time of cancellation, several more scripts were being written. Three of them, "To the Ends of the Earth", "Value Judgements" and the season one ender "End of the Line", are available to read online for free at Bookface.com along with 2 of the produced ones. "Value Judgments" (featuring the B5 bad guy Alfred Bester), can also be bought from Scripts From the Lot.

---