(a Titles & Air Dates Guide)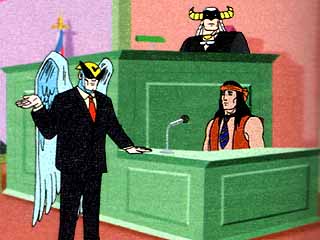 Show Details:
Credits:
Gary Cole as the voice of Harvey Birdman / Judge Mightor
Neil Ross as the voice of Vulturo

---

Disclaimer: We have no connection with the show or the network. We are just providing information, which we hope fans will find useful. We cannot vouch for the user experience provided by external sites.

---

This guide may be distributed and copied freely, in its entirety, for personal use. All original author and copyright information must remain intact. Any sales or other uses of this document are expressly forbidden, without the specific consent of the author(s).

---

Text copyright © 2001-2020, George Fergus. All rights reserved.